Clear Case That Doesn't Turn Yellow
March 02, 2022
Why do clear cases turn yellow? Can a clear case be anti-yellowing? How to prevent my clear case from turning yellow?
Many people love clear cases to highlight their phones' build and let its details shine. However, most transparent cases on the market have a common disadvantage: they tend to yellow. Sometimes, even in a matter of days. To put this long-standing issue to rest for once and for all, we launched our very own clear case that doesn't yellow. World, meet Clear.

So how does RhinoShield's Clear case differ from other brands? Does it really not turn yellow? Has it been tested? Does it have any sort of warranty? To answer these and other questions, we will first explain some of the reasons clear cases turn yellow in the first place, and why our cases are anti-yellowing.
Why do transparent cases turn yellow?
Most transparent phone cases on the market are made of TPU, which is short for Thermoplastic Polyurethane. It is a polymer elastomer material, which, due to its elasticity, transparency, oil, grease and wear resistance, and low cost, is often selected as a raw material for transparent cases. Due to its versatility, it has become one of the most common materials for clear cases in the market.

However, due to the nature of TPU, these phone cases often yellow over time when exposed to UV rays, water, sweat, dirt, and other environmental and usage conditions. The big problem with this is that yellowing is an irreversible chemical reaction and this change is, therefore, irreversible. Since there are so many factors, yellowing of a case made with TPU cannot be completely avoided even if you change your usage habits. In the end, most people only enjoy a truly clear phone case for a short time.
Game Changer: RhinoShield Clear case puts an end to this problem.
Is there really nothing that can be done to stop the yellowing? We wouldn't be RhinoShield if we didn't try. After countless days and nights of R&D, we were able to reimagine our ShockSpread™ material and create a clear case that's not only impact protective and free of mould lines, but also anti-yellowing and discolouration. The goal was to break the limits of material science and let you let your imagination run wild, so we also made it highly customisable.
Don't believe it without seeing it? Let us show you!
RhinoShield Clear has been tested for 168 hours for resistance to yellowing and has passed the SGS UV test. The case has proven that it does not discolour even with continuous exposure to high temperature UV lights and extreme shifting humidity levels. So here's our promise to you: if your case ever becomes discoloured, we will send you a free replacement under our Lifetime Replacement Warranty. More information about this program can be found here.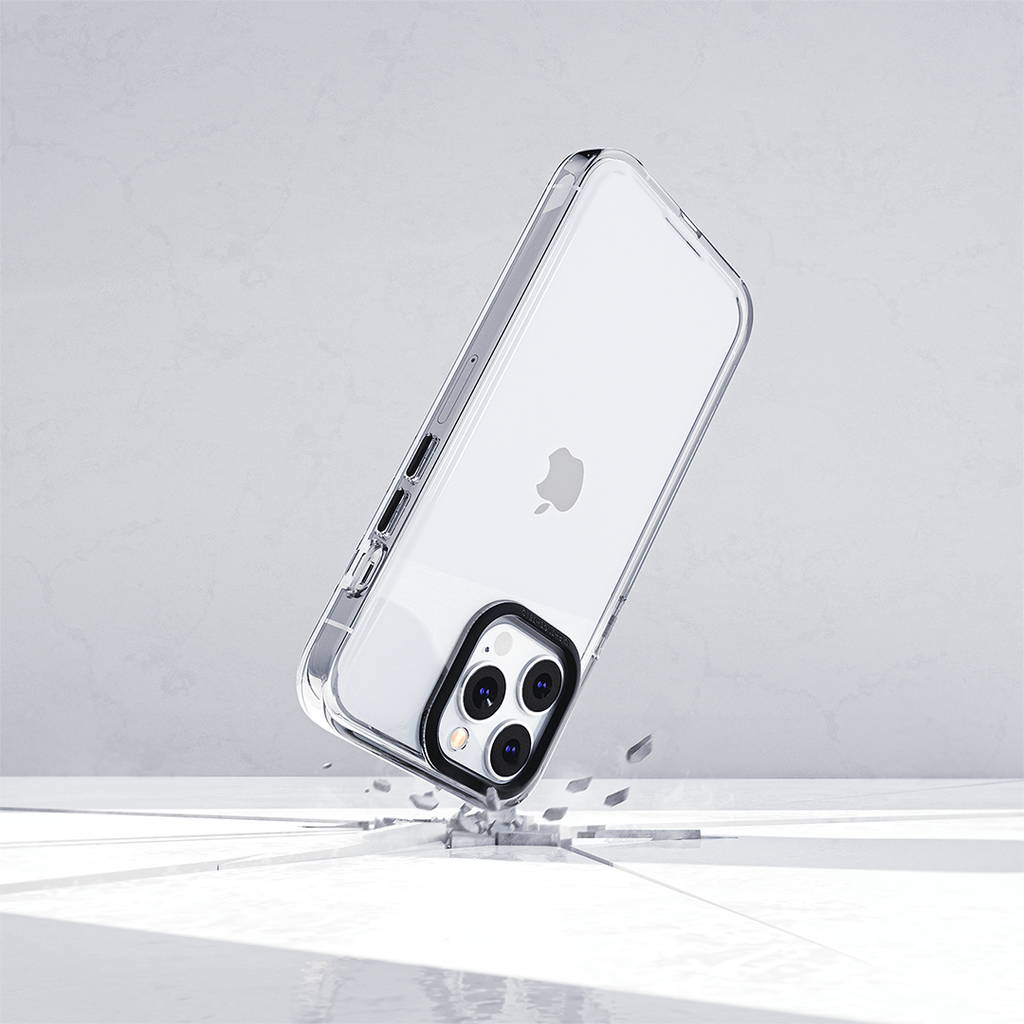 Advanced yellowing resistance. Highly customisable.
In addition to our fade-resistant material, the Clear case perfectly embodies our brand's vision of protecting technology, the planet and your personal style. In addition to military-grade protection and materials free from harmful substances such as BPA, BPF, and BPS, we offer over 3,000 exclusive print designs, sustainably manufactured lanyards, interchangeable buttons and camera frames and much more.
Magsafe compatible, superior magnetic pull force.
RHINOSHIELD has open a new era for MagSafe! RHINOSHIELD MagSafe compatible cases have a superior magnetic pull force. It's proved that we have two times the strength of Apple's official products and we're happy to say RHINOSHIELD Clear case is one of the most powerful magnetic pull forces on the market, eliminating the worry about dropping your MagSafe accessories. It's compatible with your MagSafe phone grip, MagSafe car mount, MagSafe wallet, and other MagSafe accessories.
With our Clear case, there are no limits to your creativity. Combined with our lanyard you have your hands free so you can go ahead and create your world. Fully customizable, the RHINOSHIELD Clear case allows you to express who you are and what makes you who you are without fear of yellowing and discoloration.